UGATA is launching a new AmeriCorps program called the Upstate Trail Corps!  We are seeking young adults who want to spend a meaningful year working full-time to build and improve trails throughout Upstate South Carolina… while earning a living and money for college!  The program runs from August 2023 – July 2024.
Who can serve?
Young adults (18+) who live or can relocate to the greater Greenville area.  Members must have a HS Diploma or GED.  High school grads, college grads, and those in between are all encouraged to apply!  Members must be a U.S. citizen, National, or Permanent Resident.
What will I do?
Corps members will be trained in trail construction, Wilderness First Aid, and chainsaw operations.  They will work full-time (~40 hrs/week) building and maintaining trails throughout Upstate South Carolina.  Members will also participate in weekly bike-based mentoring of local youth.  Individuals can serve as a Corps Member, or those seeking a leadership challenge can serve as a Corps Leader.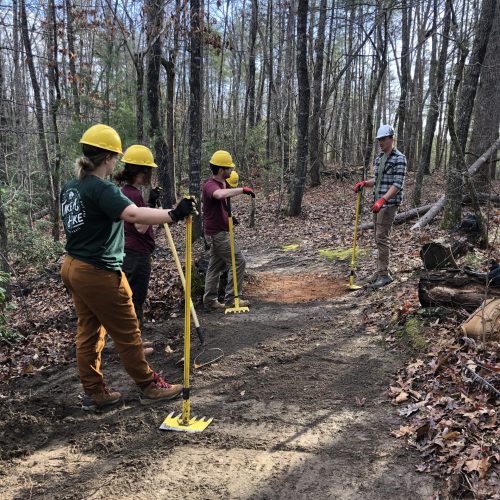 How can I apply?!
If you have any questions about the Upstate Trail Corps, please contact Matthew Hudson-Flege, UGATA Executive Director, at mflege@ugata.org or (864) 626-6431.
When you're ready to apply, please email a cover letter and resume (with two references) to mflege@ugata.org.
For priority consideration, please submit your application by May 31, 2023.